Plan Your Event

Plan the Perfect Event
Bella Tori understands the event you are planning is a memorable experience for you and your guests.
Our staff has over 30 years of experience coordinating and executing both private and corporate events.
We Can Host Your Event
In addition to ala carte dining, we can provide event services for your next private affair
Weddings
Rehearsal Dinners
Showers – Baby & Bridal
Corporate Meetings
Company Parties
Bar and Bat Mitzvahs
Passover Saders
Life Celebration luncheon
Brunches
Your Event is as Important to Us as it is to You
We pride ourselves with providing exceptional service, your event is in good hands with us from the initial planning to the final goodbye.
Chef's Parlour
The Chef's Parlour provides an intimate setting for dinners and small events.
The highlight of this room is the original 1898 fireplace complete with Mercer tiles.  You will glean a sense of historic beauty in this comfortable setting.
The recommended party size for Chef's Parlour is 10-20 people.
We Ensure that Your Guests Enjoy their Evening Responsibly
We offer a wide variety of drink packages for events, so that we can accommodate your vision and your budget. Our alcohol package applies to every guest in your party who is over 21 years of age.
Tab Bar

Charged per consumption

Your guests order from our bar, drink charges are added to your final bill.


Beer and Wine Bar

Luncheon/Brunch Bar Package

$8.95+ gratuity per person

This alcohol package is available for lunch & Shower events. Butler served mimosas, bellinis and bloody marys for your event.

Great Value

Cash Bar

Your guests order and pay for drinks as they go
Cocktail Hour
A Cocktail hour featuring seafood, cheese, crudite display or butler passed hors d'oeuvres can be added to any event for an additional charge.
Verona
The Verona room, complete with Juliette's balcony is located on the second floor. It's beautifully appointed in shades of forest green and burgundy.   Decorated with faux stone, the room features a soaring 2 story atrium with hand painted ceiling of blue clouds, this room will be perfect for hosting your private event or meeting.
The recommended party size for this room is 20-40 people.
Hosting an event beyond our hours of operation?
Events can be requested during or after our regular hours of business on weekday afternoons or Sunday nights.
The Boardroom
The Boardroom is a beautiful room, cloistered away from the busy traffic of the restaurant dining room.  With original dark wood paneling and fireplace it's an ideal room for company meetings or family dinners. The Boardroom is located on the second floor and can be booked in conjunction with the Mezza Decca room.
The recommended party size for this room is 10-20 people.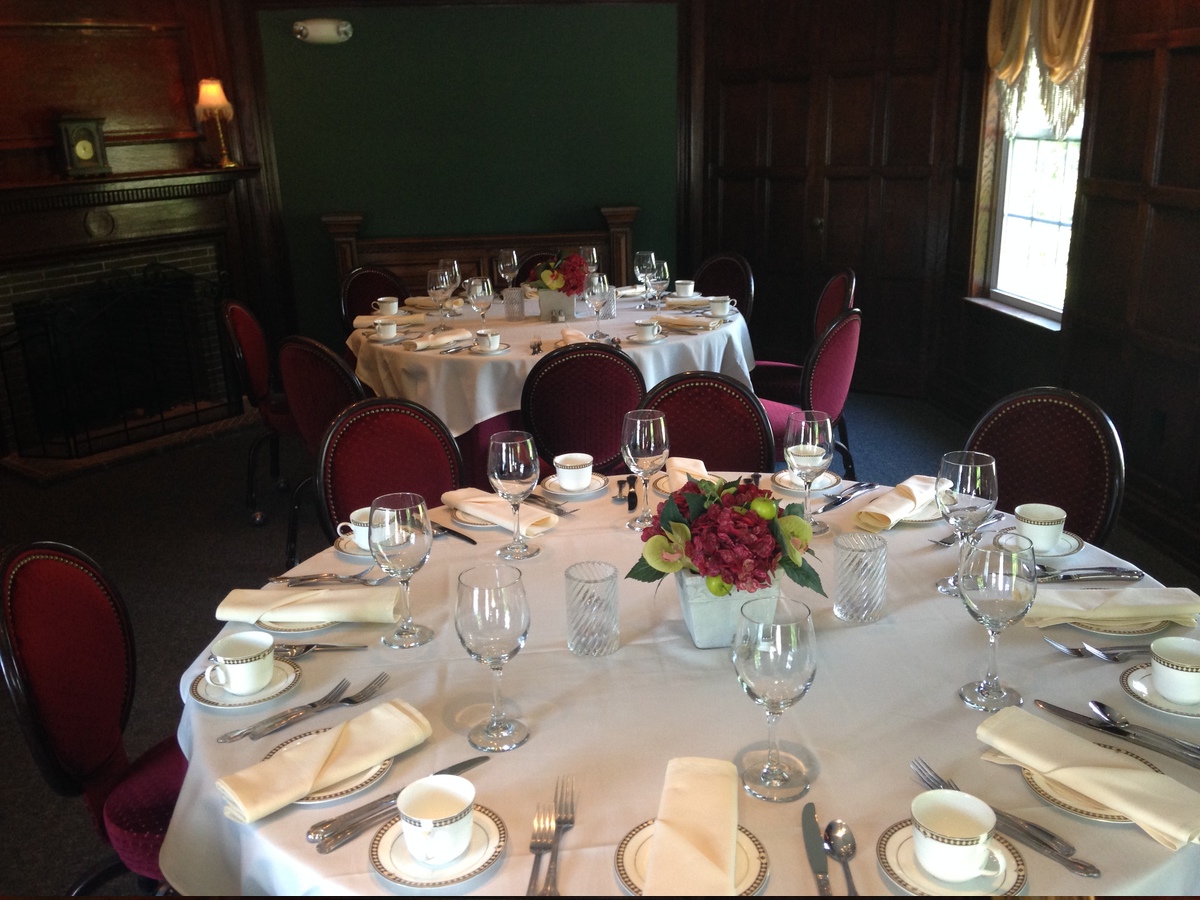 Plan Your Event